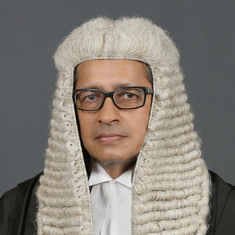 Mr K.V Nihal Jayawardene
(Non-Executive / Non-Independent Director)

LL.M (Lond), President's Counsel
Appointed: 17th August 2021

Appointed as a Director on 17th August 2021. Mr Jayawardene joined the Bar in 1983. He has his career experience as an officer of the Attorney General's Department of Sri Lanka in excess of 20 years, Senior Lecturer of Sri Lanka Law College and Legal Consultant and Board Member in numerous Institutions.

Mr. Jayawardene has actively contributed for many law reforms initiatives taken place in Sri Lanka in the field of Civil Aviation, Company Law, and has extensive experience in Public Enterprises reforms programmes carried out in the areas of Insurance, Telecommunication, Aviation, Port & Shipping and Plantation sectors.

In recognition of immense contribution made to the Legal Profession as an eminent senior counsel in Corporate, Commercial, Aviation and Public Law he was appointed as a President's Counsel in the year 2012.

He is presently the Chairman of Company Law Advisory Commission and a Member of the Board of Civil Aviation Authority of Sri Lanka. He is also a member of Board of Governors in Asian Institute of Business and Science (AIBS) and the in-house Counsel and Joint Managing Partner of Capital City Law.
Mr. Jayawardena has served as the founder Chairman of Lanka Sathosa Limited and a Director of Hotel Developers Lanka Limited from 2004 to 2015, a Director of Milco (Pvt) Ltd from 2005 -2008 and he also served as a Director of People Leasing and Finance PLC.